First, an apology on behalf of the writer: I'm sorry for being away for so long. It turns out I became quite a bit busier than I had previously anticipated. But please interpret my absence as a dramatic pause between the last post and this one. Interpret my absence symbolically, because while I removed myself from my audience to tend to more important, personal matters, so did Spencer Tracy and Katharine Hepburn in the 1960s. Just like you haven't seen me for a few weeks, you wouldn't have seen either of them for a few years had you been one of the eager 1960s moviegoers, yearning for a Tracy-Hepburn collaboration, or even a film with a single one of their smiling faces. They could've been quite the prolific movie and stage actors beforehand, whose enormous body of work spoke for itself, but between 1962 and 1967, nada.
1960s. The decade where cinema freed itself from the restraints of censorship, the era where liberty was law and art was a precious gem. At the same pace that the world changed the ways they viewed love, our favorite couple changed with it. They took time off from the screen, the spotlight, the fan magazines, and spent five years living a tiny life, enjoying the golden summers, the warm winters and each other.
In 1960, Spencer Tracy completed what I consider to be his finest performance: Inherit the Wind. A movie about the timeless fight between religion and science, in which he plays a lawyer, defending a young teacher's right to think. There are
pictures
everywhere, that evidence Kate's constant presence on the set. By then, what audiences and press failed to realize is that they had become what is commonly known as a
family
: It was just too darn bad that the society of the '60s had a pre-established idea of what a family looked like, and it often involved children and housewives. Spencer's health was unstable, although not a threat to his overall livelihood. Coincidentally, it was only two years later when Katharine Hepburn handed in her finest performance: Long Day's Journey Into Night. She played a morphine addict who watched her family fall apart - and her own body fall apart with it. And that was the end of Kate's career - until 1967 at least.
In 1963, when Spence and Kate were at the beach, he collapsed. He suffered from serious breathlessness and had to be hospitalized for 13 days. From then on, they made the decision that it would be best for the couple to move in together, so that she could care for his diet, exercises and medicines, as to minimize his difficulties. She left work in order to dedicate herself full-time to the job.
For years she was on top of his every move, making sure he took the best possible care of his ailing health. But at the same time, it was also an opportunity to lead a normal life, a tiny life, as Kate calls it, without the glamour and publicity of movie stardom. They received visits from other friends, screened movies in their basement home theatre, went to see several plays, and even went together to Betty Bacall's opening night on Goodbye Charlie, sitting in the front row and, some even say, holding hands. By then the press had learned to keep their distance, and they had relatively more freedom to lead their shared life. Kate's favorite time of the day, she later recalled, was dinnertime, when they each took their plates, in trays, to the front of the TV set, and snuggled up for a couple of hours.
Kate kept her exercising and cold showers in the morning, and Spencer took to painting and reading, sometimes up to three or four books a week. They were deceptively normal in those years. Without a doubt, if this break had never happened, Spencer Tracy's life would be cut short by a few years. Five years after the break began, they felt it was time to head back to the workforce, even though Spencer's condition was nowhere near trustworthy in finishing a film. Luckily, their director Stanley Kramer was a good friend, and their co-star Katharine Houghton was Kate's niece, obviously understanding of the situation. The cast was completed with Sidney Poitier, who proved to be very kind to the ailing actor. Spence was in such bad shape that no insurance company wanted to insure the movie. The two older stars had to waive their salaries and work for free. It was the first time Kate got third billing, because, since Poitier was the most appealing star to younger audiences, his name came right behind Tracy's. Because the couple's names had to be separated, it is very difficult to find Guess Who's Coming to Dinner posters with less than three names above the title.
During filming, Kate was as much a nurse as she was an actress. Many times he didn't know whether or not he'd be able to finish the picture, afraid of dying before the director yelled cut. I can't imagine what a situation it must've been. Luckily, on May 24th, the picture was completed. When the last shot was finished, Spencer, in front of the entire crew, picked up Kate's hand and said: "If you ever have anything close to what we have, then you'll know love." A week later, Kate attended the wrap party, something she rarely did, to thank all the crew members personally for being so patient and sweet to her sick darling.
Seventeen days later, before the movie was even released, on June 10th 1967, Kate woke up startled with a noise coming from the kitchen. She walked toward it, knowing Spencer was up, and hoping to kiss him good morning and make him breakfast. But when she opened the kitchen door and uttered his name, she only had time for one last glimpse of his beautiful eyes. He fell, crushing the teacup he was holding in many pieces. She ran to his body, now absolutely lifeless, and knelt before it. There was nothing she could do. Spencer Tracy was dead.
She received countless letters from hoards of people, regardless of whether or not they knew them. It was a consensus that the entire world had lost something that day. She became reclusive for a few months and not even her Academy Award for Best Leading Actress was a consolation to her. Nothing would be. Spencer won several awards abroad and either Stanley Kramer or Katharine Houghton went to pick them up. Kate would not show herself in public. In the David Di Donatello Award ceremony, Houghton went in Spencer's behalf and was unable to give a speech because she was too emotional from watching the film for the first time, which was screened before the Award was given. Anna Magnani, the presenter, said "In Italy, we don't need words. We understand tears." Houghton took the prize home, but the aura was hardly celebratory. The picture says it all.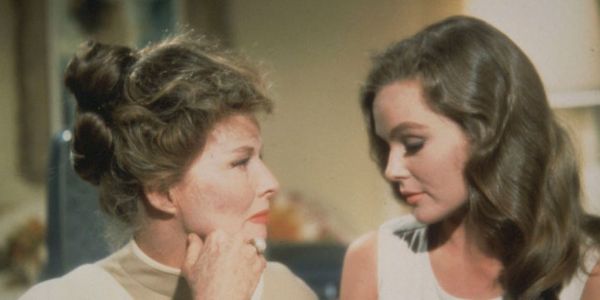 After Louise Tracy (remember her?) died in 1983, Kate finally came clean about the nature of her relationship to Tracy. In an interview, Barbara Walters asked, rather bluntly, whether or not their 26-year liaison included a sexual component. She got a positive answer, for the first time, from the lips of the 76-year-old actress. From then on, the world confirmed what they had already known for years. In 1986, Kate narrated and helped produce a documentary about Spencer's life, The Spencer Tracy Legacy. I recommend it to any Tracy fans out there. For the 36 years that remained in her life, Kate strived to keep Spencer's name in the moviegoers' hearts. She, despite having a successful career after 1967, was never the same after he was gone. And in June 29th, 2003, I doubt there was anyone else in her mind when her eyelids fell shut for the very last time. Just as swiftly as her great love had slipped away three and a half decades earlier, Kate was gone. And while the living still cherish their treasured memory, Spencer Tracy and Katharine Hepburn have found their way to each other again. In a better place.
Thank you.
So long,
Marcela.