Behold Lucille Ball and Desi Arnaz at the height of their success and beauty in 1952.
10 years later, this was nothing but a memory. Lucille Ball called Desi Arnaz on the phone. She was looking to buy him out of Desilu. Their voices were still familiar. Their faces, their smells, the way they walked, talked, slept... Neither forgot anything about the other. It was still vivid in their heads as if it was yesterday. But, it wasn't yesterday. Now, things were different. They had new people in their lives. They had new careers to seek after. They had new lives to start living.
This is what life looked like for the Arnazes in late 1962:
I know. Doesn't feel right to me either.
As a fairly impartial observer, however, I must admit: Yes, my guess is they were happy in their private lives after the divorce. Because Desi didn't retain his celebrity status with the same notoriety as Lucy, it is known more about her marriage to comedian Gary Morton than about Desi's marriage to Edith Hirsch. What is known is that they were both marriages with a lot more tranquility in the sense that the passionate fighting the Arnazes shared was nearly absent. However, it is important to note that the passion that lacked was not only in the fighting. It was also clear that the exasperating, earth-shattering, mind-blowing love the Arnazes had was substituted by a lukewarm, convenient feeling, that caused a lot less stress. I'm led to believe that this was exactly what they needed in that stage in their lives, so I'm grateful to Edith and Gary.
In the last twenty-odd years of their lives, Desi and Lucy weren't separated only physically: There was an enormous gap in how successful their solos careers remained. Lucille was the unmatched queen of television until the mid-seventies and was a fail-free performer until 1986. Desi was barely even seen on TV then, as he gradually and willingly reduced his exposure after his marriage to Edith. He preferred producing positions and behind-the-camera jobs, but in time, even those quieted down.
The exquisite beauty no one got tired of seeing
As far as their relationship was concerned, Lucy and Desi remained good friends. It was easy to forget about their stressful life together when they were apart, each in their own turf, each in their own private life. But, when they saw each other again, like
in their daughter's wedding
, I have no doubt that the thought of rekindling their marriage must've entered their heads multiple times. It is certain that they were the loves of each other's lives. According to Desi Arnaz, by 1965, they were talking on the phone three times a week. She hired him as a producer for a few episodes of The Lucy Show and Here's Lucy. Even if not romantically, they certainly found ways to enjoy each other's presence and affection.
Lucy had a rich career on television: At the end of the Comedy Hour, she premiered her own show, produced by the now fully acquired Desilu: The Lucy Show. Vivian Vance was still a co-star for three seasons and Gale Gordon joined the show later. Lucy couldn't help but be remembered mostly for Lucy Ricardo, but yet The Lucy Show never left the top 5 most watched shows in the United States.
Lucy and Viv on "The Lucy Show"
After "The Lucy Show" was over, in 1968, Lucille sold Desilu productions and made a fortune. With it, she founded a new, smaller company, LBP - Lucille Ball Productions. Her husband, Gary Morton, was in on the deal, but she was clearly the prominent one in their marriage. He was jokingly called Mr. Ball, and, to be honest (and slightly acid), I have never seen such an accurate nickname.
LBP produced
Here's Lucy
. It co-starred Lucy and Desi's children. The show was less successful than The Lucy Show and certainly a lot less successful than I Love Lucy. Lucy's career had started its (very) slow decline.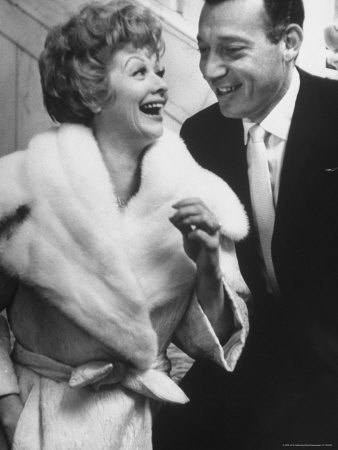 Mr. and Mrs. Ball
In 1974, Lucy took a break that she thought would be permanent. For 23 years, she had given her entire life to television and now it was time to stop. She was 63 years old. Her hair was still flaming red and her nearly perfect doll-like features were practically unchanged. She liked playing backgammon and taking care of her dogs. Desi Arnaz was a happy man, living a quiet life with his wife Edie, enjoying periodic drum-playing jam sessions with his extraordinarily talented son. By the way, the Arnaz-Ball liaison produced two of the most talented Golden-Age children: singer/actress
Lucie Arnaz
and percussionist
Desi Arnaz, Jr
.
In 1986, the shock of a lifetime.
Desi Arnaz.
Dead.
The man of such underrated intelligence, such unforgettable talent, such unique charm, such impossible adequacy for his time and medium and such enchanting ability to love.
Two days before he died, they spoke on the phone. She said "I love you" for the last time, repeatedly and in tears. Desi was too weak to even hold the phone to his ear.
Two days after he died, she received a tribute on the Kennedy Center. A letter from Desi was read out loud. "I Love Lucy" was never just a title, he said. He expressed his feelings for her even from beyond the grave.
Some say Lucy herself began to die then.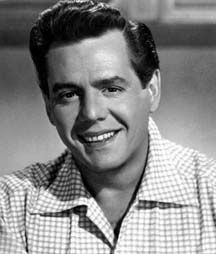 Does she sound like she is any condition to star in yet another comedic sitcom?
Well, she did.
Some say she was talked into it by Morton, but the fact is that Life With Lucy came on the air in 1986 and flopped. This can certainly be credited to her state of mind at the time. Having lost Desi, there was no way Lucy was ready to be a star again. If a few years were given to her, perhaps she'd come close to being the old Lucille Ball again, but immediately after Desi's death, not the strongest, coldest person in the world would be capable of carrying out another show.
Besides, television was starting to show its A game in the eighties: Who's The Boss and The Golden Girls were the best examples.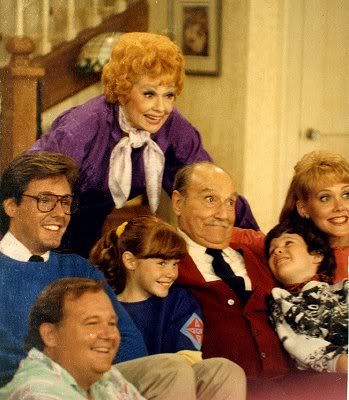 In 1989, the world became less colorful.
Lucy died.
There is nothing I can say to explain what this loss represents to the world and to me personally.
The world has never recovered from never seeing this smile again.
I would like to finish this four-post long story with a request: Please remember.
Do not let these people be forgotten after all they've done for you, me and the world at large.
I Love Lucy was never just a title.
And its legacy will never end.
I cannot, however, end a series on "I Love Lucy", no less, and leave you with sadness.
If you haven't seen this video and this performance, you missed half your life:
I promise it will brighten up your day.
Every time you feel down, no matter what has happened in your life, Lucy and Desi can easily be found and they'll teach you to chick chicky boom, chick chicky boom, chick chicky boom, and you'll be surprised at how fast your troubles will melt away.
Thank you for sticking with me for four posts and a very long tale of love, struggle and glory.
I'll be posting the interviews with the Lucy fans tomorrow, in the anniversary of I Love Lucy.
Stand by, and don't forget, for their sake, to remember.
So long,
Marcela