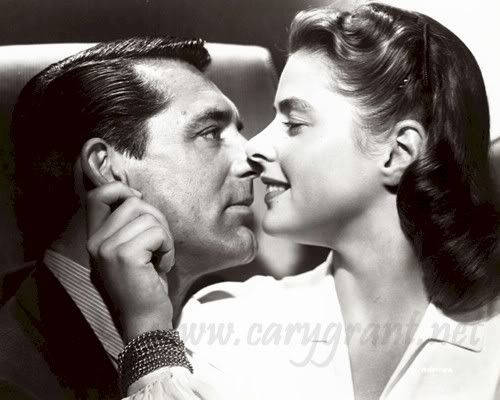 This is the first post in the "
Girl Who Could Fly
" series. Happy birthday, Ingie, and rest in peace!
The audiences loved them. Alfred Hitchcock loved them. I love them. And they loved each other.
There's no way not to love Cary Grant and Ingrid Bergman.

With them both occupying second place in my favorite actors and actresses list, they were two of the first Hollywood actors I've ever fallen in love with. I first saw them separately: Ingie on Casablanca, Cary on Bringing Up Baby. I was lucky to first find out about them in such fabulous pictures, because it instantly gave me a good impression on them. It was those two pictures that motivated me to look more into them and the more I saw them on my screen, the more fascinated I was with everything about them.
It was in a Hitchcock festival that I found out about Notorious. My favorite director with two of my favorite stars together in a thrilling picture about the spy game? Could it be too good to be true?
No, it was even better.
Ingrid Bergman plays with all her brilliance the beautiful Alicia Hubermann, daughter of a German traitor but who had very patriotic feelings about America. When she is approached by the irresistible Devlin, played by Cary Grant, she is lured into a secret spy mission in Rio de Janeiro, Brazil (!), where they must uncover an enormous operation against the United States. As they share this lofty quest, a spark of love grows between the two. To say that this is cinema gold would be an understatement.
This movie has a rather romantic scene that consists in many consecutive kisses, each one lasting no more than three seconds, in which Cary and Ingrid's characters talk, hug and even speak on the phone. It's one of the most romantic, and at the same time one of the most erotic scenes in movie history.
What was different about Cary and Ingie was that I was able to be touched, excited, thrilled and amazed by a couple on the silver screen knowing that there was absolutely nothing going on between them in real life.
My favorite on-screen couples (Tracy and Hepburn, Bogart and Bacall, Arnaz and Ball, the list goes on) all had relationships in real life and drew chemistry from them in order to perform better. There is nothing more captivating than a look from Lauren Bacall to Humphrey Bogart on one of their love scenes and you can see it in their eyes that there is something real going on. Whenever I watch a romantic picture, I always fish for those looks and smiles because I love to be touched by an off-screen relationship on an on-screen couple.
However, with Ingrid and Cary, it was still there. That spark, that reality, that different glow in their eyes was still there, even though there was no off-screen relationship to back them up. I saw them on the screen and I fell in love with their chemistry, the way they acted together as if nothing else in the world mattered.

Of course my hopeless romantic mind scavenged the internet for so much as a hint of a real-life relationship. None. They were both married to other people at the time and were simply good friends. It was their acting, their pure talent that gave them that unmatched affinity on the silver screen. I learned to sink myself on their on-screen persona, forgetting about the fact that there was no real relationship backing it up.

Cary Grant and Ingrid Bergman are movie magic. If you haven't seen "Notorious", kindly stop what you are doing and go delight yourself like you never have before.

So long,
Marcela