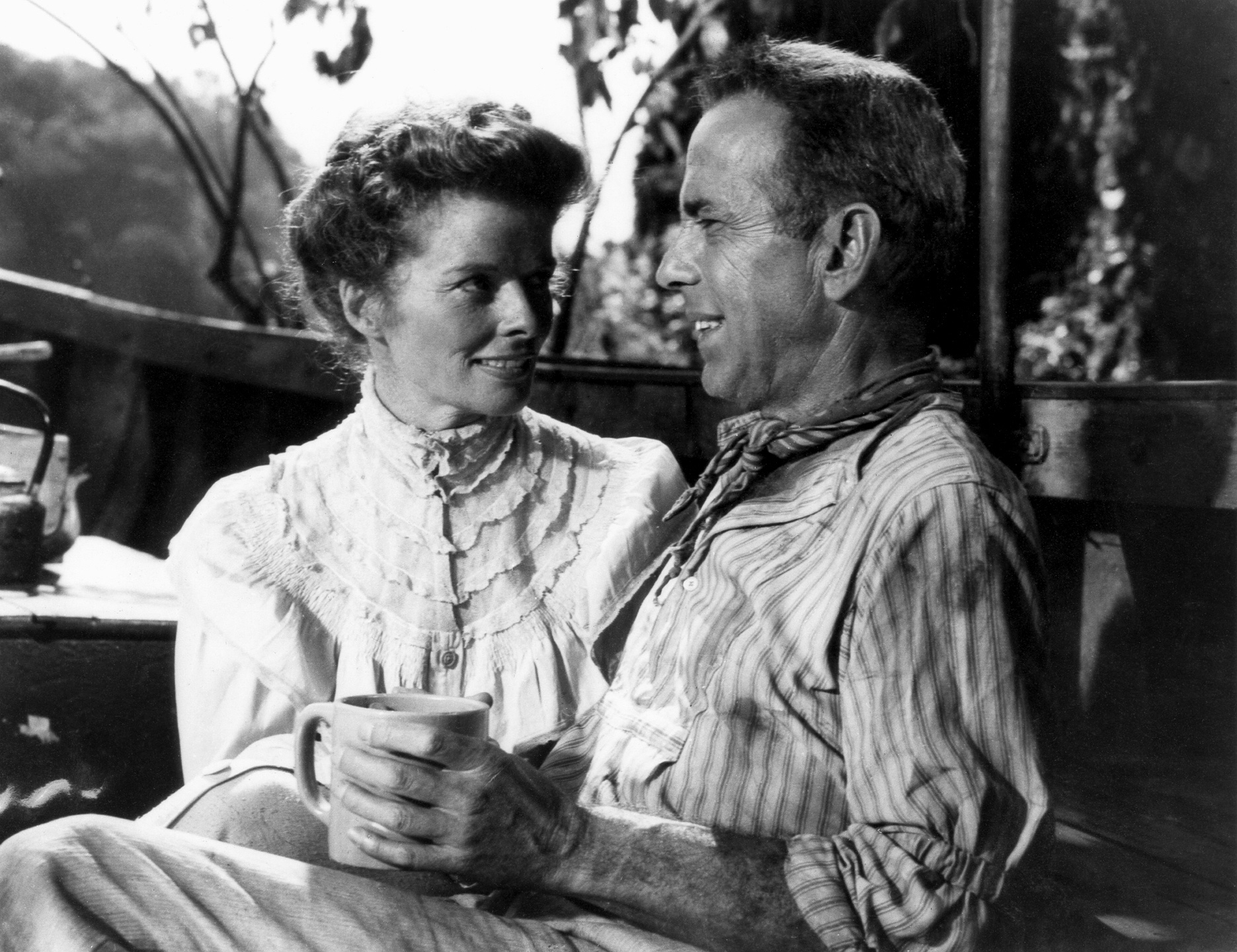 It was summer. The year was 1950. A pre-jet set aeroplane lands on Leopoldville, Belgian Congo. In it was a fearless director, an actress fascinated by life, an actor intolerant to weakness and a wife with plenty of love to give. As they left through the front door, the actress flew by avoiding the photographers, the married couple walked calmly throwing tiny smiles to the cameras and the director stared up in amazement of that enormous empty canvas he called Africa. They were about to film one of the greatest adventures ever created, and, behind the camera, they would live one even greater.
Houston and Bogart
John Huston was a famed director among Hollywood circles and not only for his talent: Besides being an eccentric in many ways, he had a special fondness for filming in god-forsaken, nearly inaccessible places. He and Bogie had been good friends since "
High Sierra
", so when producer Sam Spiegel approached him with a story by C.S. Forrester, which he was more than willing to make into a movie, he was certain that Humphrey Bogart would be the man for the job. Strong-gutted, professional and ruthlessly intolerant to actors who let anything get in the way of their work, Bogie was already a silver screen star by then, and, with films such as "
To Have and Have Not
", "
Casablanca
" and "
The Petrified Forest
" already in his repertoire, it was absurd that he hadn't yet gotten his Academy Award. Bogie, fueled by liquor and an unprecedented passion for acting, had no problem traveling for his pictures with the only condition that his wife, breathtaking blonde Lauren Bacall, was with him at all times. Bogart immediately said yes to the role and embarked a separation from their one-year-old son. As a leading lady, Huston would eventually snatch Ms. Katharine Houghton Hepburn.
Perhaps one of the most notorious personalities in Hollywood history, Katharine Hepburn was the epitome of the "new woman". A no-nonsense tower of strength who carried her own suitcases to Africa, with intimidating eyes and downward lips, she had an austere-looking appearance. With only a hint of sadness in her eyes – her nearly debilitating love for Spencer Tracy, from whom she would be separated – she was ready for anything. Her strong personality clashed with Bogie's, whose excessive liquor consumption she outspokenly disapproved of, but they shared a mutual admiration for each other's world-renowned talent and professionalism. They yearned to be the same kind of actor, and, progressively, that ideal united them in a close friendship.
As a seemingly unnecessary addition to the dream team, was Mrs. Bogart, or actress Lauren Bacall, who was only there to accompany and assist her husband on his journey. Nonetheless, Bacall's presence became crucial when the cast and crew encountered unexpected problems every day: She became an improvised nurse in the outbreak of dysentery by which Hepburn was particularly victimized; she cooked, cleaned and promptly tended to the needs of everyone and anyone on set. It was also her who registered in amateur films the goings-on from behind the oversized Technicolor cameras, providing the ultimate insight into the making of The African Queen.
Bogart, Bacall and Hepburn, upon arrival in Africa
The movie was based on a short story by C.S. Forrester, published in 1935. It was adapted to the screen by James Agee and set in motion by producer Sam Spiegel. It depicted a British missionary by the name of Rose Sayer, played by Katharine Hepburn, living in the Belgian Congo in order to offer first hand assistance to the poverty-stricken pre-World War I Africa. Also having taken residence in the Congo is a captain named Charles Allnut, who had a special ability to pilot the steamboat African Queen. When the Germans invaded the area, Allnut and Sayer, both being British Commonwealth subjects, feared for their lives. Their only choice was to run away by water, aboard the African Queen. Taken by a mixture of adrenaline and patriotic spirit, Rose makes the decision along the journey that they were to sink the German battleship Louisa with hand-made torpedoes, hence clearing the coast from the Kaiser's war force for their home army to counterattack. Together, they experience incomparable adventures and a great love starts to grow between them.
There is much to be analyzed on this 1951 masterpiece. Both Bogart and Hepburn delivered pitch perfect, albeit unusual performances. Hepburn was your textbook Catholic missionary: chaste, strict and of impeccable morals. "Nature, Mr. Allnut, is what we are put in this world to rise above." She tells Bogie's character, when he tries to justify his bottle-popping as human nature. At the start of the picture, she even shows submission, first to her clergyman brother than to Charlie Allnut. Allnut, in addition, was also an unusual character for Bogart. A Canadian turn of the century homeboy, who mentions his "poor old mother" every five minutes and encounters difficulties to keep up with Sayer's religious or seemingly intellectual musings. Not a hint of the gangster film noir melodrama made famous by "The Maltese Falcon". Bogart was presented with a much-belated Academy Award, considered by many a mark of his versatility and by others a consolation prize for a lifetime of unrecognized achievements. It is unlikely, however, that the latter was reason enough to beat Marlon Brando in "A Streetcar Named Desire", also on the running for the Oscar.
The African adventure was a great bonding experience for Bogart and Huston – one shared over daily doses of alcohol. Bacall and Hepburn, however, began their lifelong friendship in quite the opposite way: they were both enervated by the men's deadly habit and made a point of drinking strictly water in front of them. The water quality in Africa, however, was poor, leading to an epidemic of dysentery that victimized almost the entire cast and crew: with the exception of Bogie and Huston, whose stomachs were sterilized by the whisky.
Bogart won an Academy Award for his portrayal of Charlie Allnut. Hepburn
was also nominated, but lost to Vivien Leigh on "A Streetcar Named Desire"
Speaking of water, despite popular misconception, the movie was not filmed in its entirety in Africa. Because the water on the Ulanga River was so contaminated, the scenes where Bogart walks through the mud and emerges with leeches on his entire body had to be filmed in an artificial body of water in London, England. Some of the more complex scenes on the boat were shot using a green screen, also in London.
It's almost strange to see Hepburn out of her khakis and the emphatic avant-garde speech giving place to bible verses and conservative statements. It's just as unusual to see Bogie in Technicolor, without his fedora, flattering lighting or his sultry enunciation of witty lines. The African Queen was considered one of the best films in history. Its quality is stupefying considering the conditions under which it was made. So life turning was the experience that it resulted in all kinds of personal consequences, the most lasting of which a lifelong friendship between The Bogarts, John Huston and Katharine Hepburn. To speak of such people and not speak of The African Queen is no easy task. The unforgettably thrilling madness the foursome brought upon themselves was explored by Hepburn on her first published book. Its title was as self-explanatory as any title ever needed to be. "How I Went to Africa with Bogie, Bacall and Huston and Almost Lost My Mind".